Hungarian State Folk Ensemble: His Cross Blossomed
Dance drama for Easter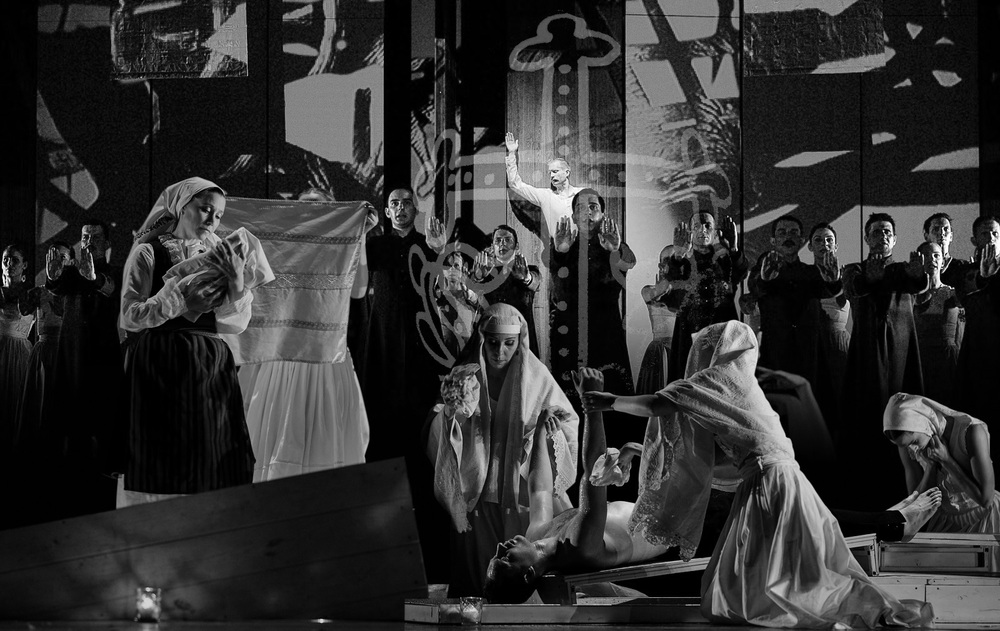 Hungarian State Folk Ensemble: His Cross Blossomed
Dance drama for Easter
Müpa Budapest — Béla Bartók National Concert Hall
17 April, 2022 | 7.00 pm
Ticket prices
2500 Ft | 3200 Ft | 3900 Ft | 4900 Ft | 6900 Ft
Müpa Budapest
1095 Budapest, Komor Marcell utca 1.

Performed by: dancers and orchestra of the Hungarian State Folk Ensemble
Featuring: Júlia Kubinyi, Eszter Pál, Milán Hetényi – voice, Gábor Gera – accordion, Orsolya András – ütőgardon, Domonkos Farkas – organ, Saint Ephraim Male Choir (choirmasters: Tamás Bubnó, Lőrinc Bubnó), Concert Ensemble of Budapesti Énekes Iskola (choirmasters: Tamás Bubnó, János Mezei), students of the Deák Diák Musical Primary and Grammar School, students of the Hungarian Dance Academy

Music director: István Szalonna Pál
Music editors: Tamás Bubnó, Attila Gera, Milán Hetényi, Attila Mihó, István Szalonna Pál
Ethnography consultant: János P. Vas
Production design: György Árvai
Animation: Zsolt Korai
Traditional costumes consultants: Krisztina Palik, Edit Szűcs, Borbála Winklerné Petri-Kiss
Costumes: Edit Szűcs
Sound: Péter Szabó
Lighting: Ákos Gimpel
Assistants to the choreographers: Beatrix Borbély, Andrea Lévay
Choreographers: György Ágfalvi, Máté Farkas, Klára Hetényi-Kulcsár, Zsolt Juhász, Gábor Mihályi
Choreographer, director: Gábor Mihályi

The Hungarian State Folk Ensemble's dance production for the Easter holiday relies as much on the liturgies of the different denominations as on the ancient peasant customs and songs of regions in the Carpathian Basin that lie at great distances from each other. The respective Easter rituals of the Székely Land, the Rábaköz, former Upper Hungary and the south of the Great Hungarian Plain – both Christian and pagan – are linked in a unified dramatic form.
The exciting musical fabric of the performance consists not only of folk songs, religious folk tunes and dance music, but also the Easter-themed songs of the Roman Catholic, Protestant, Greek Catholic and Orthodox churches, as well as archaic folk prayers. Most of the latter are rooted in the distant past, the time before the conversion to Christianity.
This performance of the Bartók Spring is presented by Müpa Budapest as a joint event with Hungarian Heritage House – Hungarian State Folk Ensemble.
Müpa Budapest — Béla Bartók National Concert Hall
17 April, 2022 | 7.00 pm
Ticket prices
2500 Ft | 3200 Ft | 3900 Ft | 4900 Ft | 6900 Ft
Müpa Budapest
1095 Budapest, Komor Marcell utca 1.