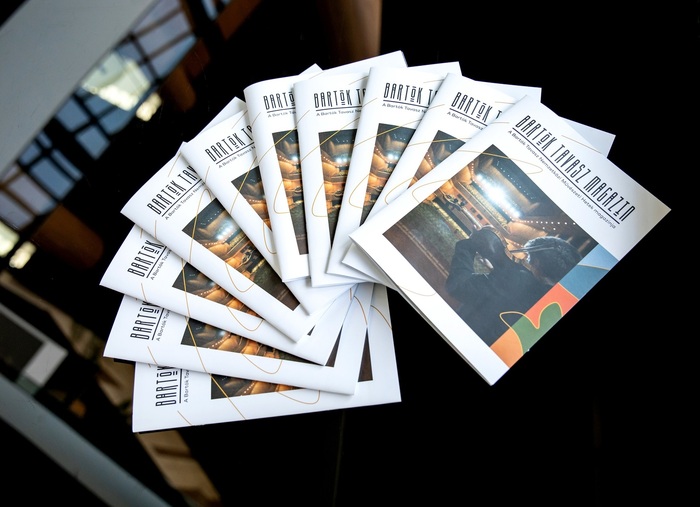 05. 05. 2021.
Bartók Spring Magazine Now Out
Browse online or pick up the free programme magazine of the Bartók Spring festival, held between 7–24 May. The Bartók Spring International Arts Weeks offers free streamed concerts, world premieres and productions broadcast from some of Europe's famed concert halls. Find 40 pages of exciting content on these events in the publication, whose printed Hungarian version you can pick up in Libri bookstores and the open cultural venues, while both the Hungarian and the English versions are available online.
Above all, the magazine offers a very readable behind-the-scenes view of the programme of what is the first Hungarian festival of the arts that is composed solely of free streamed events. The art and life of Béla Bartók and current topics of the performing art scene are also discussed in articles and interviews by widely recognized cultural journalists, researchers of the RCH Institute for Musicology, and a curator of the Hungarian National Gallery's Prints and Drawings Collection.
There is an exclusive interview with Csaba Káel, who talks about the concept of the new festival, as well as with Riccardo Chailly, who will conduct the Filarmonica della Scala, and speaks about the composers he likes, his Budapest experiences, and the responsibility of a musician during the lockdown. We look at the extraordinary career of Vasily Petrenko, who will guide the Royal Philharmonic Orchestra through their concert, introduce the origin story of Johann Sebastian Bach's St John Passion in anticipation of the performance of the English Baroque Soloists & Monteverdi Choir under the baton of John Eliot Gardiner, and give you the background story of the new film music Bence Farkas composed for Alexander Korda's 1918 silent film, Man of Gold, which will be first performed, together with the restored film, at the festival.
There are a handful of articles on the international significance of the festival's eponym, Béla Bartók, his rich oeuvre, the complete string quartets that can now be heard thanks to the re-formed Kelemen Quartet, and his epochal approach to folk music. A comprehensive article looks at the history of the large non-metropolitan dance companies – of which the Ballet Company of Győr and the Szeged Contemporary Dance Company perform at the festival – ever since their foundation, and there is a primer on the Hungarian alternative folk music scene, and its concerts at Budapest Ritmo.
There are discussions of the effect of audience-less concerts on the performers, the work of the crew at Müpa Budapest's studio during the streamed concerts, and the designers and the motifs that popularized Budapest in the world during the 20th-century heroic age of Hungarian poster design.
More news